NCSU's 1974 Championship Run
---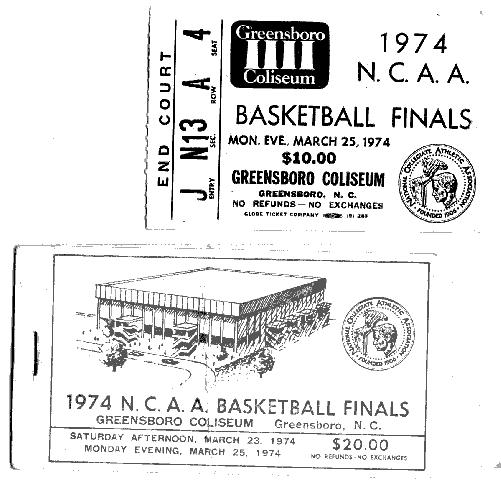 My pep-band ticket stub from the championship game.
---
#1!For the first time, the AP and UPI polls both figure it out: NCSU is #1! As reported in the Technician on 2/20/1974. (69k)
Official box score from the NCSU-UCLA game. (188k)
Play-by-playOne page of the NCSU-UCLA play-by-play sheets that were handed out to the press.
David Thompson takes a rebound over Bill Walton. (137k)
Tommy Burleson shoots a skyhook over Bill Walton. (99k)

---
The following pictures from the championship game vs Marquette were kindly provided by "Charlotte Wolf", a frequent poster in the NCSU fan forum at ACC Boards:
David Thompson scores an Alley-Oop against Marquette in the championship game.
Mo Rivers blocks Ed Daniels' shot in the championship game.
Tommy Burleson drives past Marquette's Earl Tatum for two points.
David Thompson tells it like it is.
The 1974 championship team

---
Back to my NCSU Memoirs.
---
Back to My Trumpet Playing.
---